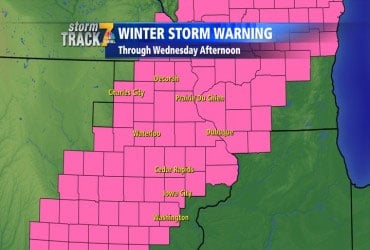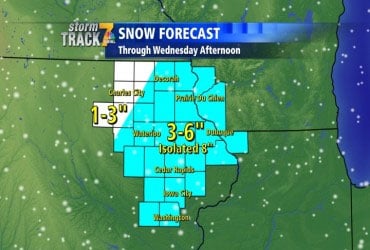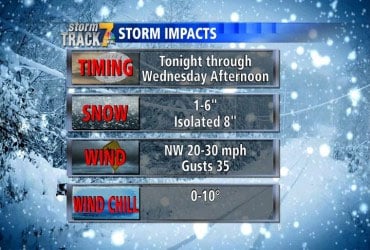 A Winter Storm Warning is in effect for all of eastern Iowa.

The heaviest snow will be anywhere from 3 to 7" with a narrow band of higher amounts possible. Lighter amounts will occur in our northern and northwestern counties. Winds will be strong today creating blowing and drifting issues.
Snowfall tapers off during the afternoon, although some snow showers may linger through the overnight. Flurries will continue into Thursday as temperatures stay very cold. Temps today will be steady or falling with lows dropping to the single digits either side of zero by Thursday morning.
Wind chills will be from 10 to 20 below zero for the morning hours and probably won't get above zero during the day on Thursday with highs struggling to get to positive territory over much of the viewing area.
Temperatures will plummet into the negative teens for Friday morning with dangerous wind chills expected, but the winds will switch to the south and will "warm" us into the positive teens (barely) for Friday afternoon.
A fast moving clipper will track through Friday night into Saturday with a chance of light snow with highs in the 20s through the weekend.
Another clipper looks like it will track through the state on Monday with another shot at some light snow. Highs will climb into the low 30s for Monday before dropping back to the upper 20s for Tuesday.
Stay updated with the latest forecast on KWWL, KWWL.com or download our free mobile app on your Android or Apple phone or tablet.