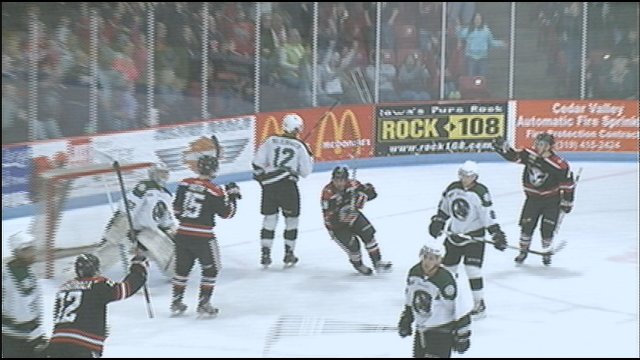 WATERLOO (KWWL) -
5-2 Waterloo Black Hawks victory at Young Arena Saturday against the Cedar Rapids RoughRiders was the 500th during the career of head coach P.K. O'Handley.

O'Handley is in his eleventh season with the Black Hawks and 18th overall in the league. His first seven years were spent with the North Iowa Huskies, who evolved into the RoughRiders shortly after O'Handley departed for a job in professional hockey. O'Handley is just the fourth coach in the USHL to win 500 games. He coached his 1,000th USHL game on March 9th, and he is the only USHL coach to hold that distinction.

Dylan McLaughlin's individual effort from his own blue line put the RoughRiders ahead at 6:26 of the first period. Dodging a check, then slowing his pace after speeding into the offensive zone, McLaughlin cut across the top of the crease to slip a shot through oncoming traffic and
into the net. Less than two minutes later, Cal Petersen made sure the RoughRiders wouldn't add to the lead, smothering a breakaway opportunity by Gerald Mayhew. It was one of 30 saves Petersen made during the contest.

The Hawks used a power play to tie the game. At 15:24, Austin Vieth redirected a shot by Vince Hinostroza into the top corner. Just 71 seconds after that, Taylor Cammarata scored on a wraparound to the post left of goalie Chris Birdsall after picking up a rebound at the opposite
side of the net.

Waterloo pulled away in the second with another pair of goals, beginning at 11:48. Brandon Salerno found a rebound in the slot and lifted a shot over the right shoulder of Birdsall. Just over two minutes later and on a two-man advantage, Zach Stepan banged the puck into an open side after receiving it on a cross-slot pass.

Corey Petrash sent a low shot from the left wing circle into the net at 10:21 of the third period as the RoughRiders outshot the Hawks 16-8 in the final frame. However, Waterloo's last chance went into an open goal, as Ryan Papa sealed the victory with 9.5 seconds remaining.

Waterloo's regular season home schedule concludes Sunday with a 3:05 contest versus the Des Moines Buccaneers.