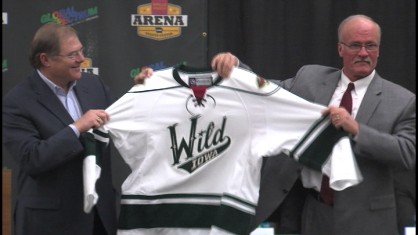 Des Moines' new hockey franchise, the Iowa Wild, was official introduced on Monday afternoon. Team officials showed off the new Wild jerseys along with the official web site.
The franchise is relocating from Houston. The move brings AHL hockey back to Des Moines for the first time in 4 years. The Iowa Chops quit playing in 2009.
Minnesota Wild officials decided moving the team north would allow for more convenience.
"This is a market we've talked about for years," said Minnesota Wild owner Craig Leipold, "It just makes all the sense that we in the Twin Cities that our farm team is close enough that we can get to it, we can manage it better. We're involved in this now and committed to the long term to be in Des Moines."
The Iowa Wild will begin play at Wells Fargo Arena in the fall.