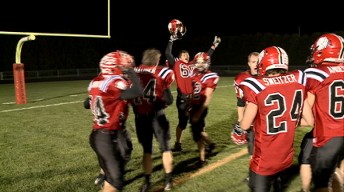 NEW HAMPTON (KWWL) -
Despite coming in with a #6 ranking and a perfect 8-0 record, most people still considered New Hampton to be a major underdog against #1 Waukon. The Chickasaws, however, didn't see it that way as they put together a great defensive effort to take down the top ranked Indians 19-14.
The win secured New Hampton's third perfect regular season in school history along with a district title.
The two teams traded touchdowns in the first half. New Hampton's Cole MacDonald hit Connor Frerichs in stride on a 65 yard touchdown in the first quarter. The Chickasaws extra point attempt failed, and Waukon countered with a 15 yard touchdown strike from Parker Hesse to Marcus Weymiller for a 7-6 halftime lead.
Frerichs scored his second touchdown of the game on a 3 yard 3rd quarter run, while a turnover led to another New Hampton touchdown. MacDonald hooked up with Kyle Smith on a 14 yard touchdown for a 19-7 lead early in the 4th quarter.
Waukon, however, made it a game with a 1 yard run by Hesse to pull within 5. Hesse then provided a spark on defense hitting MacDonald in the backfield to force a fumble. The Indians recovered near midfield with 2:30 remaining on the clock.
New Hampton would come up with a couple late defensive plays to put the game away, however. Kyle Blaylock sacked Hesse on a 3rd and 7 play in the redzone with under 30 seconds remaining. On the ensuing 4th and long play, Hesse was again under pressure as he heaved a desperation pass to the endzone that fell harmlessly to the ground sealing the Chickasaw's upset.