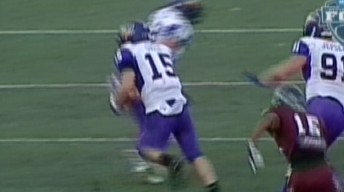 NORTHWOOD (AP) -
UNI Junior Tate Omli was honored on Sunday as the Missouri Valley Conference defensive player of the week. Omli tallied a career high 17 tackles in UNI's win over Missouri State on Saturday.
His biggest play, however, came in the final 2 minutes. With the Panthers leading by 7, Omli grabbed an interception to cap the win.
Omli now has 50 tackles on the season, along with 27 return yards off of his two interceptions.
The player of the week honor was the first of his career.