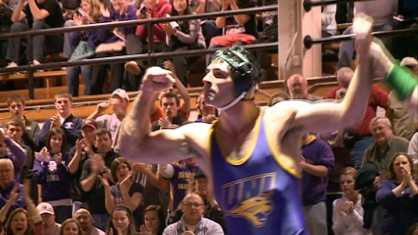 CEDAR FALLS (KWWL) -
The Panther train continues to roll right along. The 5th ranked UNI wrestlers defeated #24 Purdue 21-12 in a sold out West Gym on Sunday. The win improves the Panthers to 12-0 for the first time in school history.
Dylan Peters earned UNI's only bonus points of the match. The 125 pounder put 2-time NCAA qualifier Camden Eppert on his back earning his 16th pin of the season in 3:34.
The Panthers have one final dual remaining on the road at Old Dominion on February 23.
UNI 21, Purdue 12
125 – #6 Dylan Peters (UNI) fall Camden Eppert (PU), (3:34)
133 – #1 Joe Colon (UNI) dec. #12 Cashé Quiroga (PU), 8-6
141-- Danny Sabatello (PU) dec. #14 Joey Lazor (UNI), 14-10
149 – Tyler Patten (UNI) dec. Brandon Nelsen (PU), 2-0
157 –Alex Griffin (PU) dec. Jarrett Jensen (UNI), 3-2
165 – #11 Cooper Moore (UNI) dec. Pat Robinson (PU), 6-1
174 –Patrick Kissel (PU) dec. #17 Cody Caldwell (UNI), 4-2
184 – #5 Ryan Loder (UNI) dec. Tanner Lynde (PU), 5-0
197 – #12 Braden Atwood (PU) dec. Jared Bartel (UNI), 7-5
HWT – Blaize Cabell (UNI) dec. Alex White (PU), 5-3